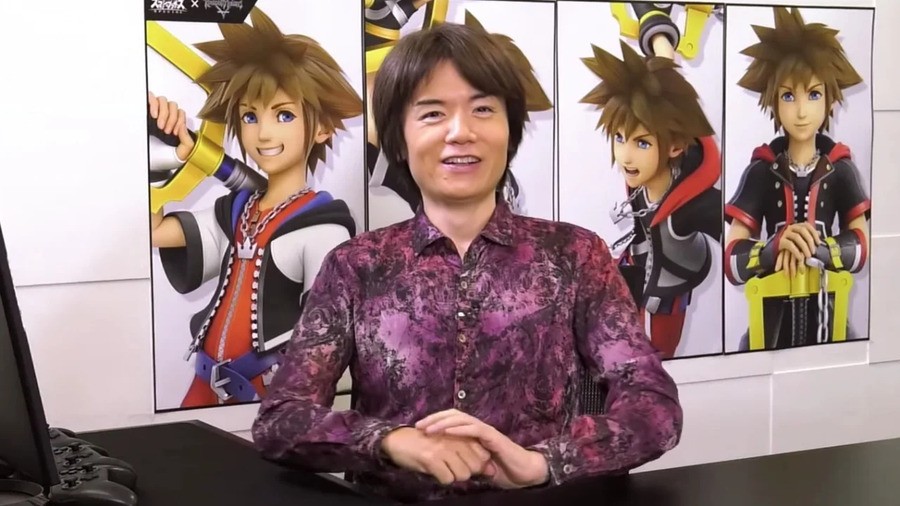 Super Smash Bros. Ultimate creator Masahiro Sakurai has been recognised by the Dengeki Game Awards as Japan's most valuable video game creator in 2021.
This award was decided based on user voting within Japan. Sakurai shared the news with his followers over on Twitter, while also thanking everyone who supported him and his team. Sakurai was able to place ahead of the Resident Evil Village development team, Um Musume: Pretty Derby's development team, Sega's Ryu Ga Gotoku Studio and Naoki Yoshida (FFXIV's producer).
"Select by user voting" Famitsu / Dengeki Game Award 2021 " MVC ~ Most Valuable Creator ~ Masahiro Sakurai
"I received an award. Thank you to everyone who supported us!"
The game of the year for 2021 went to Capcom's latest Monster Hunter game, Monster Hunter Rise for the Nintendo Switch and PC. The same title also took out the best action game.
Metroid Dread took out the Action/Adventure category – fending off Hades and Returnal. And Buddy Mission Bond, published by Nintendo – won best Adventure game.
Here is the full list of nominees (winners in bold), courtesy of Siliconera:
Game of the Year
Uma Musume: Pretty Derby
Tales of Arise
Resident Evil Village
Monster Hunter Rise
Lost Judgment
MVC – Most Valuable Creator
Capcom's Resident Evil Village development team
Cygames' Uma Musume: Pretty Derby development team
Masahiro Sakurai (creator of Super Smash Bros. Ultimate)
Sega's Ryu Ga Gotoku Studio
Naoki Yoshida (producer of Final Fantasy XIV)
Best Scenario
Tales of Arise
Buddy Mission BOND
Lost Judgment
Best Graphics
Uma Musume: Pretty Derby
Tales of Arise
Resident Evil Village
Best Music
Uma Musume: Pretty Derby
NieR Replicant ver.1.22474487139…
Monster Hunter Rise
Best Actor
Takuya Kimura as Takayuki Yagami in Lost Judgment
Daisuke Tsuji as Jin Sakai in Ghost of Tsushima Director's Cut
Maggie Robertson as Alcina Dimitrescu in Resident Evil Village
Best Voice Actor
Hitomi Ueda as Gold Ship in Uma Musume: Pretty Derby
Shino Shimoji as Shionne in Tales of Arise
Daisuke Namikawa as Chesley Nichols in Buddy Mission BOND
Best Character
Alphen from Tales of Arise
Ethan Winters from Resident Evil Village
Gold Ship from Uma Musume: Pretty Derby
Best Online Game
Apex Legends
Genshin Impact
Final Fantasy XIV: Endwalker
Best Action
Hades
Monster Hunter Rise
Returnal
Best Action Adventure
Resident Evil Village
Metroid Dread
Lost Judgment
Best Adventure
Jack Jeanne
Tsukihime -A piece of blue glass moon-
Buddy Mission BOND
Best RPG
The Legend of Heroes: Kuro no Kiseki
Shin Megami Tensei V
Tales of Arise
Best Indie Game
Eastward
Ender Lilies: Quietus of the Knights
Hades
Best Rookie
Uma Musume: Pretty Derby
Scarlet Nexus
Buddy Mission BOND
Best Esports Game
Apex Legends
Street Fighter V: Champion Edition
Valorant