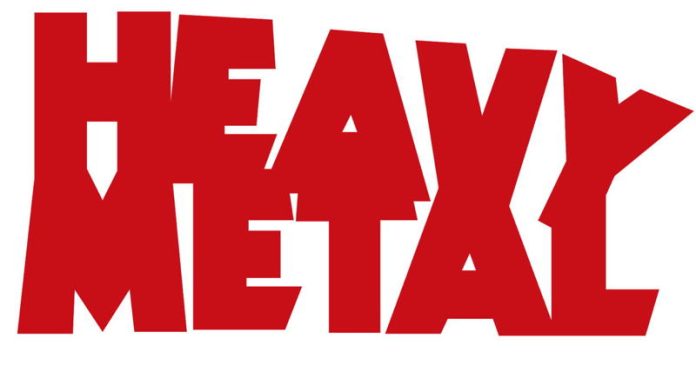 Matthew Medney, CEO of Heavy Metal, has stepped down, Variety reports, following a month of reorganization as the publisher struggled to pay its bills.
Myth founder Marshall Lees will take over as CEO with Jamie Penrose taking over as COO. Joseph Durko, a professional reorganization expert, remains aboard heading up finance.
Medney took over the storied publisher in 2019, with a commitment to more original material and a renewed publishing slate. The major push was to license more material to Hollywood, and last year the signed a first look deal with Range Media. The company also had a successful foray into NFTS. And a deal with WhatNot, will see the the popular auction app start to publish the flagship magazine, Heavy Metal, next month.
However, cash flow problems emerged, and at the end of last year, the company shut down to catch up on invoicing.
Matthew Medney was a shareholder in the private group that owns the company, as are Lees and Penrose.
Medney's exit statement ran on Variety:
Heavy Metal has been at the core of my existence for 3 years, it's where I found a brand that I understood from the jump, something I could help shepherd back into the conversation of storytelling brands. I am so thankful for the experience, the time, and the trust in delivering such an iconic and important brand back from legacy status to active. That journey will stay with me forever.

But with that said, it is time for me to focus on creative endeavors such as my intellectual properties, narrative games that I'm helming and projects that I care about from a creative position and let Heavy Metal be guided by someone who soaks in the excitement from the business building that is needed from this plateau to bring it to the next. I will be stepping into my role as a partner in the business and cheering on and helping in important projects and relationships.

I am thrilled for this next chapter of my life where I will focus solely on creative endeavors while being confident that the operations of Heavy Metal are in trusted hands.
However, Medney leaves amid serious accusations that he sold the foreign rights to one of the series that ran in Heavy Metal without the creators knowledge or compensation. At issue is the series The Last Detective by Claudio Alvarez and Geraldo Borges.
The series was published in the pages of the US edition of Heavy Metal, however, the creators struggled to get paid for it, and were shocked when Medney told them it had been published in the Italian version of Heavy Metal without any compensation – something he claimed he had the right to do, although foreign rights are usually negotiated on a country by country basis.
The creators took to social media to make the case over the weekend with Borges tweeting:
Fellow colleagues: @HeavyMetalInk sold our comic The Last Detective to a publisher in Italy without having any publishing right over it and without paying us anything. Be aware of their illegal behavior!
Fellow colleagues: @HeavyMetalInk sold our comic The Last Detective to a publisher in Italy without having any publishing right over it and without paying us anything. Be aware of their illegal behavior!

➡️https://t.co/a4FYjiZF91 pic.twitter.com/SGgsOG2hqs

— Acción Comics (@AccionComics) January 14, 2023
In a much longer FB post, translated from Spanish, Alvarez told the whole story in detail:
Being an "international author" has a lot of goodies. But there's also the darker side of dealing with unscrupulous and chatty editors, a world that many of the creators who offer their content from Latin America know – unfortunately – all too well.

I remember how happy we were with

Geraldo

when The Last Detective was published by

Heavy Metal Magazine

. That joy of fulfilling the goal of being in a historic magazine diluted with the months, when payment for publishing rights turned into an odyssey of emails, broken promises, forwarding of invoices and a long etcetera. The same months it took to get a report of sales and payments for our titles on the Virus line, payments for the agency

Artistgo

(some subjected to a nonsense of successive and endless corrections), or any c bear that meant to make the most basic of the agreements signed.

Until one day we said enough. In meeting with Matt Medney, the "CEO" of the magazine, I confirmed what he had expressed by mail: I ended the business relationship, demanded payment of the debt and communicated that Geraldo would not continue drawing Adrienne James, the title he was writing And that someone else turned into an understandable script). I still remember when Pam came in from the next room and asked me "hey, who was the gringo yelling at you so much?" ". Matt was furious and raised his voice. The situation was absurd to me. I didn't agree to negotiate anything, and I tried to make him understand it wasn't just about money, it was about respect. Since then we don't talk anymore. It was thanks to Joe Illidge (a bloke) that we got – after months – to process payments, get our rights back, and finally close that bitter chapter.

The final surprise came last December, when Matt reappeared via email telling us "as a courtesy," that The Last Detective would be published in the pages of the new Heavy Metal Italy. According to him, he "notified us in good faith" even when in his view it wasn't even necessary, because the magazine – again according to him – could reproduce the English comic by contract. We couldn't believe it.

I had to explain to him that the contract with Heavy Metal had not only expired in June 2021 and that I no longer had any rights over the play, but was never authorized to license our comic in another language (for some reason it was obvious) even that in Italy is published in Italian). Not only that: I told him we had a publishing contract in Italy and he could get his partners in trouble in that country. It took me a couple of emails to understand and agree to comment to the Italian publisher that the work wasn't available.

Imagine the outrage to see our comic published in number 3 of Italian Heavy Metal. With our names featured on the contract. Without having the rights to it. Without paying us a dime.

For these days, I have notified the editorial in Italy of the facts and potential conflicts that the behavior of your "partner" can bring them. They're surprised and complicated on the subject, especially since they acquired the rights in good faith and like history.

I know we're not the only ones who have gone through things like this and some much worse in the last few years. I also know that I'm sure many have kept quiet and made their best attempts to fix the issue privately, to not close doors or to avoid the slogan of "conflict" in a market where you don't want to close doors. I might do the same thing. I did, in fact … but now i have no why. I do this post because I can (neither Geraldo nor I live from the rights of our works), and because with my partner we want to warn creators who are thinking of publishing outside to take care of the 'Matts' that are going around .

It's sad that a brand as beloved and powerful as Heavy Metal has been driven – in light of recent news – to ruin by a CEO who doesn't understand what respect for creators is and who doesn't have the slightest work ethic. Now, are we going to charge our illegally published comic in Italy? It sure does. But it's not just about money: it's about respect.
"Heavy Metal takes allegations of impropriety very seriously, in particular those related to our relationships with talent and contributors. We intend to communicate with all relevant parties and fully investigate this allegation, and we will provide further comment on the matter once we have absolute clarity," adding that they "want to ensure the community that any legitimate claim will be properly explored and rectified."
Developing.
Related