Marlena put up a good fight, but the time has come.
After her collapse on the rooftop, John brings her downstairs, but it's too late.
Spoilers for Days of Our Lives during the week of 1-23-23 say that John will watch helplessly as Sarah fails to resuscitate Marlena, forcing him to say goodbye to his Doc. But is this the end?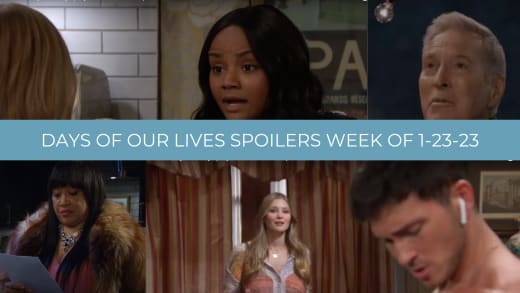 Several years ago, John was so determined to defy Marlena's Do Not Resuscitate order (whatever happened to that, by the way?) that he switched her and Hattie so Marlena could live on. He won't be able to pull a similar trick this time, but that doesn't mean Marlena is gone permanently.
John "I saw the plane go down" Black should know that the end is rarely final in Salem, especially where Orpheus is concerned. In the 1980s, Orpheus convinced John that Marlena had died in a house explosion, only for her to turn up alive, and that is not the only time this has happened.
This time feels different. John and Marlena went through the tragic circumstances many older couples face after decades of marriage: incurable disease ravaging one partner's aging body.
The doctors could do nothing for Marlena except try to keep her comfortable as she faded away, leaving John helpless and heartbroken.
If this were a cancer storyline, it probably would be the end for Marlena, along with the other two women who had already succumbed to this awful disease.
But this is Salem, where death is rarely final, and when it comes, we usually don't accompany the characters to Heaven.
According to spoilers, Marlena will go through the doors to the afterlife, using the same set that Bo spent time in during Beyond Salem 2.
Marlena will undoubtedly meet Kayla and Kate there, but that's not the only surprise Days of Our Lives has in store for her.
All three of the women will meet people from their pasts. The only question is whether those people will help them adjust to their new home or convince them to return to Earth and their loved ones.
Please scroll down to check out all of our spoilers for Days of Our Lives during the week of 1-23-23.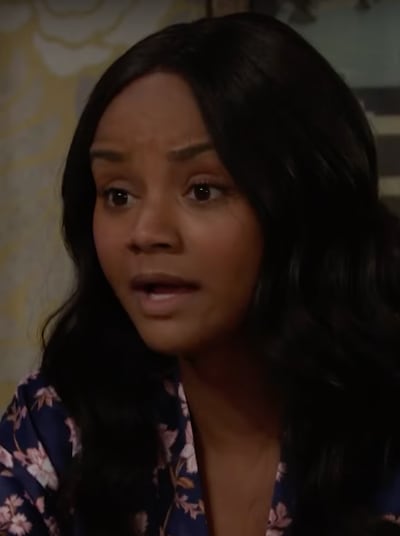 Allie confronts Chanel about Chanel's feelings for Johnny.
Here we go again! Chanel chose Allie over Johnny months ago, but that doesn't mean Allie isn't finished being jealous and insecure.
Allie should ask her friend Alex where going down this path might lead. He knows better than anyone the self-sabotage and heartbreak in store for Allie if she doesn't get her act together.
There's also something to be said for Allie spending her time honoring Marlena's memory instead of being jealous that Chanel helped Johnny create a pleasant surprise for Marlena's final moments on Earth.
John watches helplessly as Marlena passes away.
Sarah got Marlena stabilized earlier, so John's hoping to eke out one more miracle. Sadly, it isn't going to happen.
John will be helpless to do anything for his beloved Doc except pray, and he, Belle, and Eric will do that. But it won't be enough.
Marlena won't regain consciousness this time. She's gone, and her loved ones will have to adjust to life without her — for now, anyway.
Alex comforts Allie after her loss.
Alex abandoned his interest in Allie and Chanel, even as friends, after he got together with Stephanie. Conveniently, he's single now that Allie feels insecure about her relationship with Chanel.
Weightlifting seems to be an odd way for him to spend his time so soon after the death of three women, including one who was important to Justin, but that's Alex for you.
After getting another glimpse of his ripped, shirtless body, Allie will probably have feelings she'd like to deny. Alex could use his experience with Stephanie to convince Allie not to throw her relationship away by being jealous and insecure, but somehow I doubt that'll happen.
Marlena sees a surprising face in Heaven.
According to spoilers, Marlena runs into Susan.
I was hoping that Susan was still alive. But maybe Marlena can negotiate one of those "second chance" cards that Bo got for herself and Susan so they can return to Earth.
Anytime Susan shows up, things get silly, so these scenes might also provide some badly-needed comic relief after the unnecessary deaths of three leading ladies.
Paulina hires Stephanie to help with Sloan's latest nonsense.
Paulina's first stop should be a lawyer. Anyone halfway competent could make mincemeat out of Sloan's case, and Paulina supposedly has high-priced attorneys on speed dial.
Justin or Belle would do in a pinch, but someone who knows how to tell a judge that blackmail is illegal and grounds for disbarment would be nice.
I'm not sure what Stephanie can do since she's a grieving non-lawyer, but this idea will give Stephanie and Chad an excuse to spend a lot of time together. So, that's probably the whole point of Paulina's visit.
Wendy apologizes to Gabi.
Now that EJ's secret is out, I suppose Wendy can tell Gabi the truth: she wanted to spill the beans a long time ago, and Johnny talked her out of it.
Hopefully, Wendy will get the somewhat sane version of Gabi, not the self-centered one who wanted a dying Marlena to deprogram Stefan.
Either way, Wendy and Gabi working together is soap opera gold, so let's hope Gabi forgives her!
Johnny and Chanel discuss their feelings for each other.
Ugh. I wish Salemites would get the memo that you don't HAVE to have feelings for someone because other people say you do!
We went through months of this nonsense with Nicole and Eric, only for Nicole to be gaslit into a relationship with Eric that lasted all of ten minutes.
Can we not, please? Johnny should move on with Wendy while Chanel stays with Allie. No more flip-flopping.
Sloan leaves a bad impression on Roman.
Does Sloan ever make a good impression? She did on Eric, I guess, but he seems to have borrowed a ton of gullibility from Brady and eventually will come to his senses.
Roman won't like Sloan or want Eric involved with her, but he should keep his mouth shut.
After years of dealing with Sami's assorted over-the-top ideas, Roman should know that putting his two cents in will only push Eric and Sloan closer together. But he's grieving and doesn't have Kate to hold him back, so Roman might not use common sense.
What do you think of these spoilers, Days of Our Lives fanatics? Hit that big, blue SHOW COMMENTS button and let us know!
If you'd like to chat about already-aired episodes of Days of Our Lives, check out the latest Days of Our Lives reviews and Days of Our Lives Round Table discussions.
Days of Our Lives streams exclusively on Peacock. New episodes drop on weekdays at 6 AM EST / 3 AM PST.
Jack Ori is a senior staff writer for TV Fanatic. His debut young adult novel, Reinventing Hannah, is available on Amazon. Follow him on Twitter.